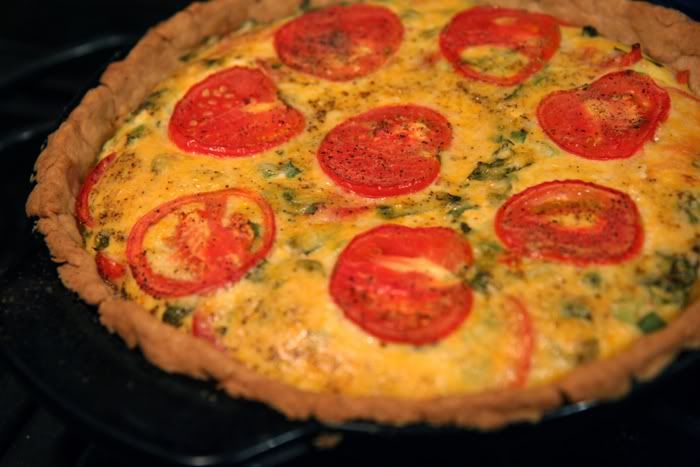 A few months ago when I made this (I know, I'm seriously behind on blogging), we had so many tomatoes and so much basil that I was literally putting them in/on everything. Nary a sandwich was made without them playing a supporting role. After getting tired of sandwiches, pastas, salads, and pizzas, I really wanted to make something where the flavor of the home-grown tomatoes and basil could take center stage. This quiche was just the thing.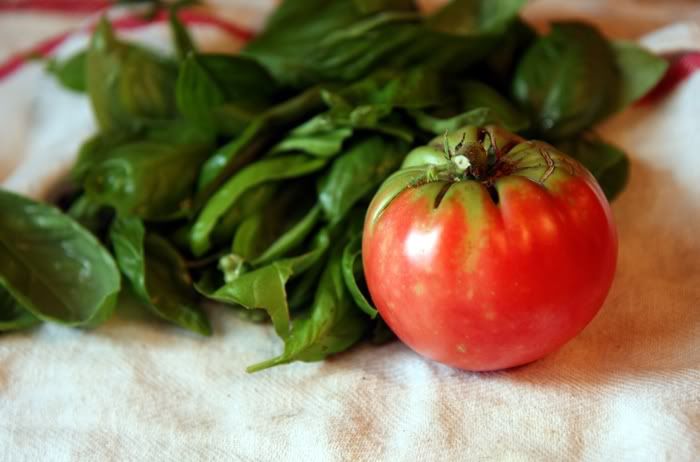 I LOVE this whole wheat pie crust. It's super flaky and buttery without feeling heavy. I also used large curd cottage cheese instead of heavy cream, which cuts down on the fat and give the quiche a great texture. I actually use this trick a lot with casseroles too.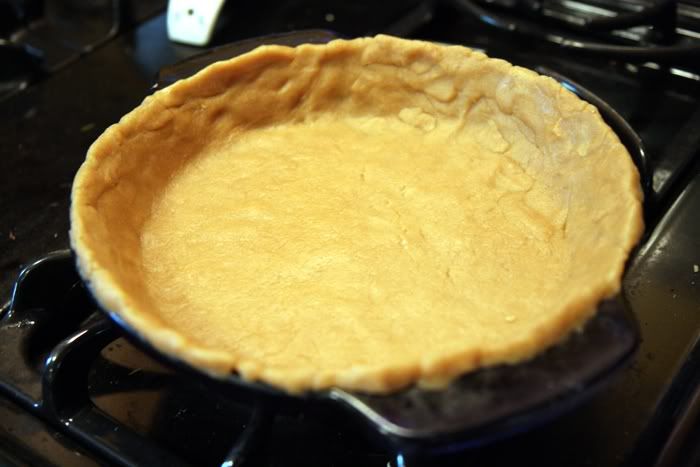 For the Pie Crust
1 1/3 cups whole wheat flour
1/2 teaspoon salt
1 teaspoon sugar
1/2 cup (1 stick) butter, softened
1 teaspoon vinegar
1 egg
1 tablespoon cold water
Combine flour, salt, and sugar. Cut in butter. In a separate small bowl, lightly beat egg, vinegar, and water. Add to dry mixture and knead with hands for a few minutes, until smooth. On a lightly floured surface, roll dough into a circle and place in a 10-inch pie plate or dish. Prick with a fork on bottom and sides. Preheat oven to 475 degrees and bake for 8 minutes. Remove from oven.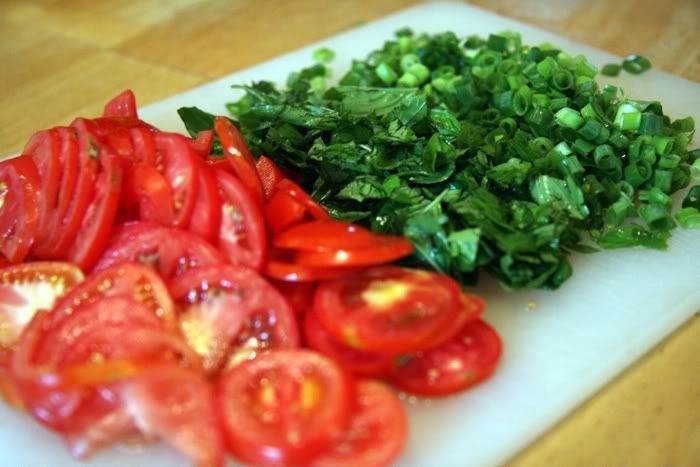 For the Filling
4 large eggs
4-5 tomatoes, sliced thin
About a cup of chopped fresh basil leaves
About a cup of chopped green onions
1 cup of cottage cheese (small or large curd are fine)
3/4 cup of shredded sharp cheddar
salt & pepper to taste
Mix everything but the tomatoes thoroughly before folding tomatoes in. Be careful not to stir too much after adding the tomatoes. Save a few tomato slices to place on top of the pie. Pour the egg mixture into the pie crust and top with the remaining tomato slices.
Bake at 400 for 10 minutes and then reduce heat to 350 and bake for another 15-20 minutes or until the filling is puffed up and golden brown. Serve with a leafy green salad.