Cold soups are perfect in the heat of the Summer.  
Gazpacho
, in particular, is great because you can make it with vegetables from your own garden.  There is nothing that compliments the flavor of good, fresh, home-grown vegetables like gazpacho.  We've made it with store-bought tomatoes before and it's not even close to the same.  You have to make it in season.  Make a big batch and you'll be eating (and loving) it for days.  This one featured tomatoes, cucumbers, basil, and jalapenos from our own garden and was garnished with avocado-corn salsa.  This salsa could also stand on it's own as a salad or dip for tortilla chips.  
Gazpacho
2 slices day old white bread, cubed (we used about half of a small baguette)
2 1/2 cups chilled water
2 1/4 lbs. fresh tomatoes
1 cucumber
1 red bell pepper, chopped
1 fresh green chili, seeded & chopped
2 tablespoons olive oil
juice of 1 lime
juice of 1 lemon
a few drops of hot sauce (we used Texas Pete)
salt & black pepper
a handful of basil leaves
Put the bread into a large bowl and pour 2/3 cup of the water over it and leave it to soak for 5 minutes.  Place your tomatoes in another bowl and cover with boiling water--leave that for 30 seconds.  Drain the water and then peel off the skin.  Quarter them and remove the seeds.  
Peel the cucumber and remove the seeds.  Cut it into a few smaller pieces.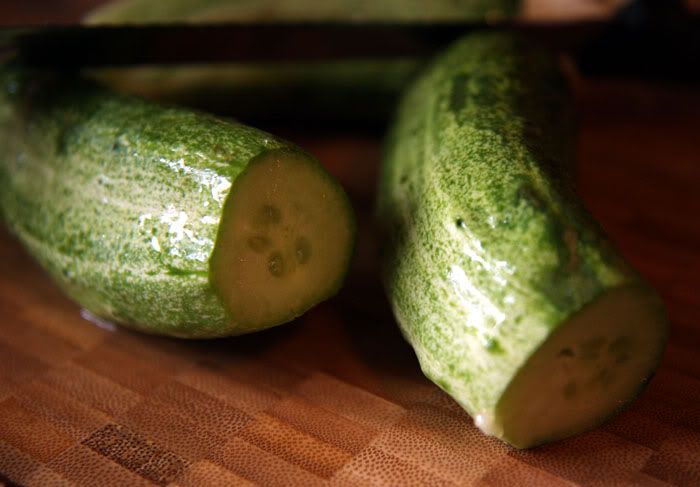 Drain the bread and then put it, along with the tomatoes, cucumber, red pepper, chili, garlic, olive oil, lemon & lime juice, hot sauce, and 2 cups chilled water into a food processor or blender (a blender would actually be best here) and blend until well combined, but still a little chunky.
Season with salt and pepper and chill for 2-3 hours.  To serve, top with avocado-corn salsa, and garnish with fresh basil.
Avocado-Corn Salsa
2 ripe avocados, diced
1 can of corn, drained (fresh would be even better)
1 green chili, finely chopped
1/2 yellow onion, chopped
1 garlic clove, finely chopped
juice of 1 lime