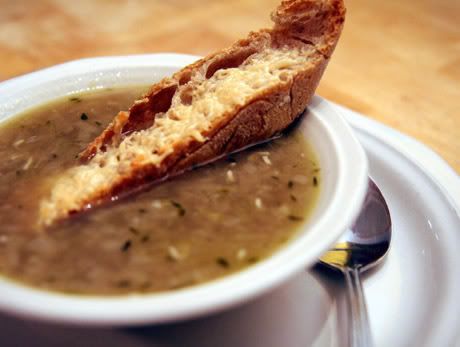 We have been wanting to make our own bread for a long time, but the one and only time we tried, we ended up with 'flat bread'. It was tasty, but as you probably guessed, it didn't really rise.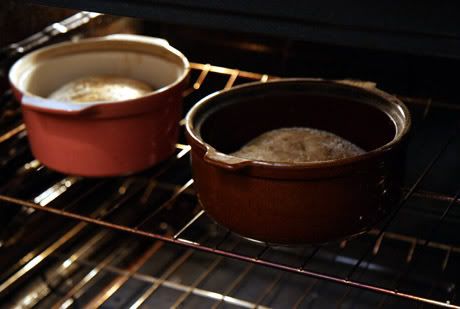 Recently, we were introduced to a recipe for a 'no-knead' bread, so we thought we'd give it a shot. Big ups to Shane for the passing along the recipe and giving some helpful tips. See the recipe
here
.
The following modifications were made to the recipe, copied directly from Shane:
1) Use 1 cup of whole flour and two cups of unbleached white.
2) Put the water in the fridge for a few minutes, then do the mixing in a food processor with a metal blade before resting and rising the dough.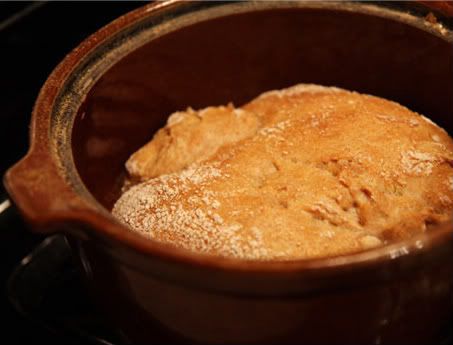 You can also make baguettes, which we will try next time once we get a pizza stone:
Cut the risen dough in half and form it into baguettes, & bake at 450 on a pizza stone for 22 minutes.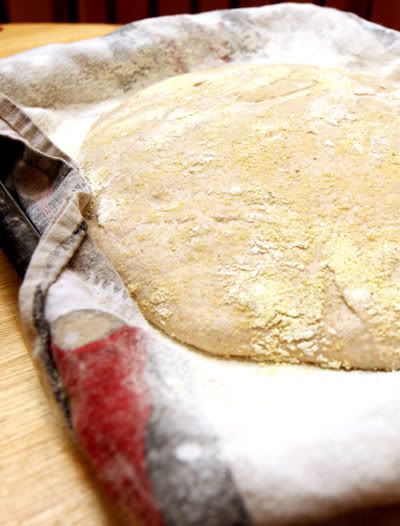 It really was easy, but you must realize that the most important thing is giving it time to do what it has to do. The only other problem is that it can get messy, as you can see here: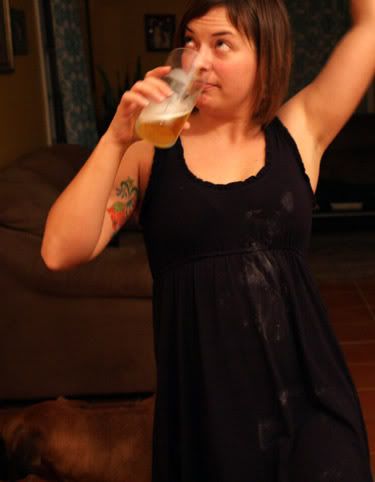 Recently we made some venison stock from some bones left over from a couple of roasts that we had. Since French onion soup usually calls for beef stock, I thought the venison stock would make for a very interesting variation. I used a recipe from a cook book that I have, but changed a few things along the way. The key to this soup is slow cooking the onions. Keep in mind that this isn't something that can be made quickly.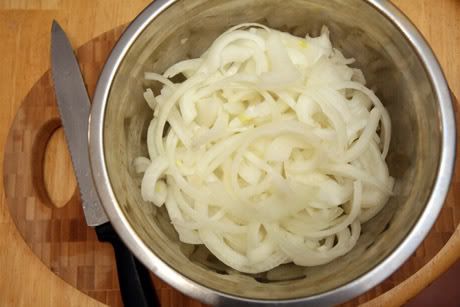 1 tablespoon olive oil
half a stick of butter
5-6 yellow onions
2 cloves garlic
1-2 tablespoons chopped fresh thyme
1 teaspoon sugar
1 tablespoon sherry
1 1/2 tablespoons all-purpose flour
2/3 cup good beer, not a stout or porter (we used Sammy Smith's Winter Welcome!)
6-8 cups venison broth
salt
Halve and slice the onions, finely chop the garlic, and remove the thyme leaves from the stems. Add the olive oil to a large heavy pot and then the butter. When the butter has melted, add the onions and garlic. Cook over medium heat for 5-8 minutes, stirring once or twice, until the onions begin to soften and then stir in the thyme.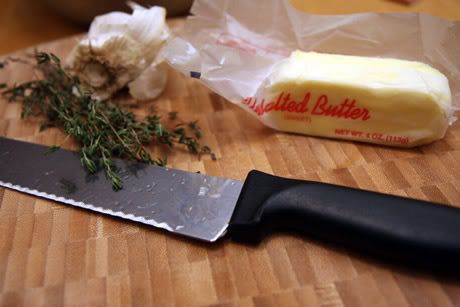 Reduce the heat to very low and then cover and cook the onions for another 20-30 minutes, stirring frequently, until they are very soft and golden yellow.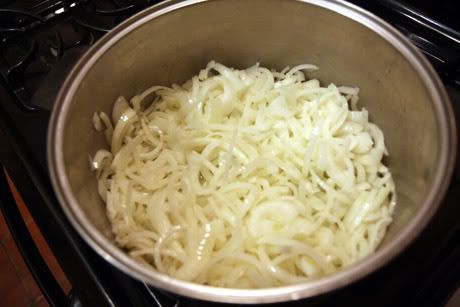 Uncover the pot and increase the heat slightly. Stir in the sugar and cook for 5-10 more minutes until they start to brown. Add the sherry and increase the heat again and continue cooking, still stirring frequently, until the onions turn a deep, golden brown--this could take up to 20 minutes.
Stir the flour into the onions and cook for about 2 minutes, making a roux. Gradually and slowly pour in the stock. Now add the beer, salt, and black pepper and simmer for about 15 minutes.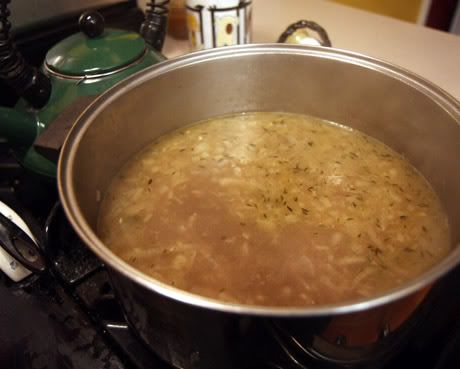 Serve with crostini. Slice country bread and cover with grated parmesan cheese and bake until cheese is melted and bread is crispy.