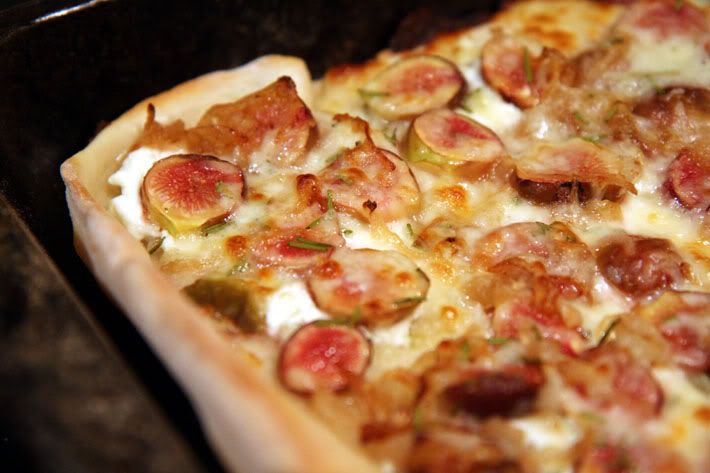 So, we've been into pizza lately. REALLY into pizza. We usually just pick up a dough from the best local pizzeria, Transmetropolitan. BUT, since we have some friends who make pizza for us fairly often and make their own dough, we decided that we needed to have a joint pizza party. Fun, right?! We used a bunch of local ingredients (tomatoes, basil, rosemary and FIGS!!) and made two ridiculously delicious pizzas--one that was more savory and one that was a little on the sweet side.
Our good friends Tim and Kate are excellent cooks and we've been impressed by their culinary prowess on many an occasion. Kate is great with dough--the girl makes home-made naan that is out of this world. Here's the recipe she uses, which is an adaptation from "Baking Illustrated":
1/2 cup warm water1 envelope (2 1/4 teaspoon) instant yeast1 1/4 cup water (room temp)2 tablespoons of olive oil4 cups of bread flour1 1/2 teaspoons of saltDump the 1/2 cup of warm water and yeast together in a bowl and let it sit for about 5 minutes. It should start to swell a little. Add the room temp water and the oil.In a standing mixer combine the flour and salt with a paddle attachment. Slowly pour in the liquid mixture while it is still going. Sometimes I have to add a little flour to keep it from being too runny. It should be somewhat of a cohesive mass of dough. Replace the paddle with a dough hook and let it go for about 6 minutes. It should be fairly elastic. Sometimes I'll let it go up to 8 min.After this go ahead and cut the dough into 2 pieces. Lightly oil 2 bowls and put the balls of dough in each, turning them over so they are covered in oil. Cover each with plastic wrap. They will double in about 1 1/2 hours. Sometimes I will turn the oven on warm and put the bowls near it. This will shave off about 45 minutes. Do not cut the dough after it has risen. It will be really difficult to stretch it out if you do. After the dough has doubled take each and roll them on a floured surface. Form them into balls and let them rest with a wet cloth on top of them for about 10 minutes. Then you can roll them out or flip them up in the air whatever works.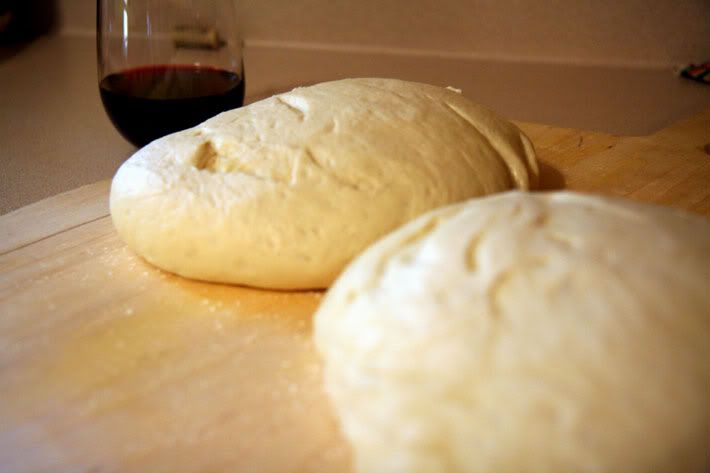 The first pizza was what Tore's family has always called "Salt Pizza", because of the salty anchovies. It's ingredients are very simple; home-grown tomatoes and basil are the perfect match for garlic and salty anchovies.
1 can of flat anchovy filets, cut into smaller pieces
4-6 tomatoes, sliced thin
5-7 garlic cloves, finely chopped
a good handful of fresh basil, chopped
olive oil
1 teaspoon dried oregano
black pepper
mozzarella
parmesan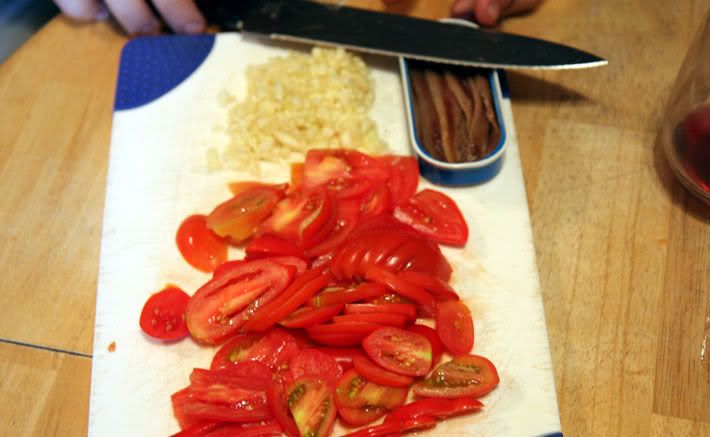 Start by heating the pan you're going to use. You should make pizza at the highest temperature your oven will go or about 500 degrees. Once your pan is good and hot, toss in a pinch of yellow corn meal to keep your dough from sticking. Lay your dough into the pan and then liberally drizzle olive oil over the whole thing. Next add your chopped garlic, then the tomato slices, then the anchovies, then the herbs and black pepper, and then top it with the cheeses.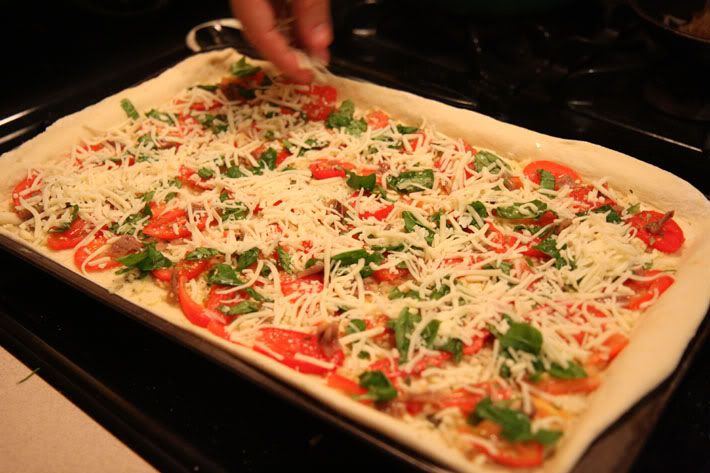 Bake for about 10 minutes or until it starts to brown.
For the second pizza, we used a local ingredient that's in season right now (FIGS!!) and if you have access to them, you need to make this pizza right away. Do not delay.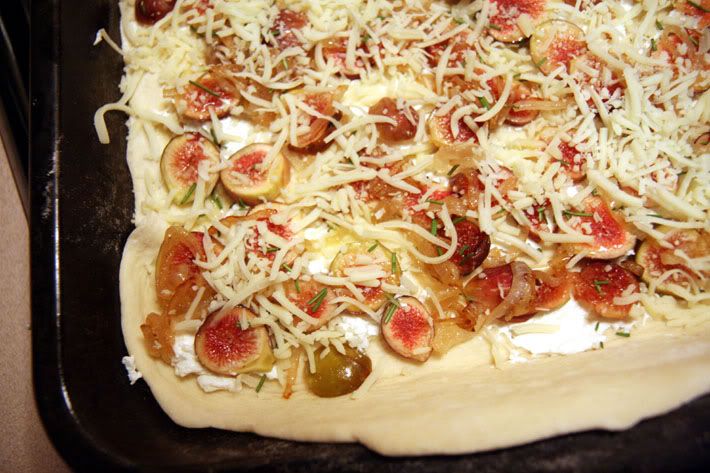 20 fresh figs, sliced thin
1 sweet onion, sliced and carmelized
1 tablespoon fresh rosemary, chopped
4 oz. goat cheese
black pepper
mozzarella
Prepare your pan the same way and then start with the goat cheese. Put it onto the dough in pats and be careful spreading it--you don't have to really spread it, just make sure you can layer on top of it and it covers most of the dough. Next layer on your fig slices, the carmelized onion, and the rosemary and black pepper. Finish with the mozzarella.
Bake for about 10 minutes. Salivate.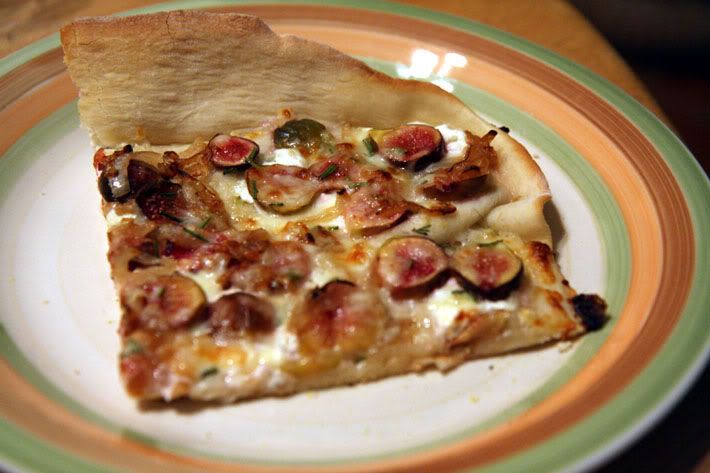 (thanks, Kate, for helping with photos too!)