These were both firsts for Local Okra. We have been meaning to make ceviche for a long, long time and we finally did it. It literally could not be easier to make. If you've got time to squeeze some limes, then you can make ceviche. It only needs about 3 hours to marinate before it's ready to eat.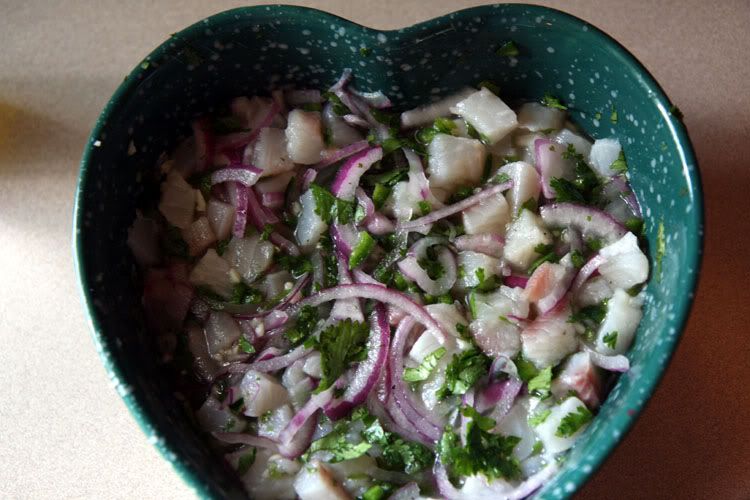 The stuffed poblanos are a little more labor intensive, but still fairly easy to make. The hardest part is getting the skin off the peppers after roasting them. These were really good though and since we baked them, not nearly as bad for you as the deep fried version.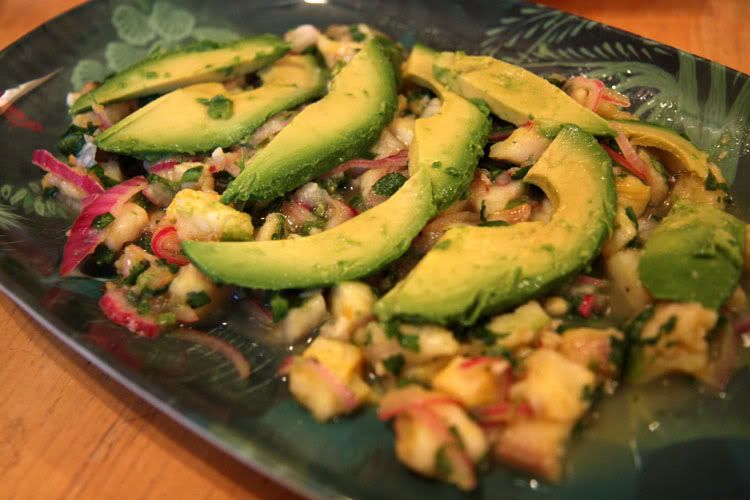 Peruvian-Style Ceviche
1.5 lbs tilapia filets, cubed (next time we will use red snapper for a firmer texture)
juice of 10-12 limes
4-5 garlic cloves, chopped
1/2 cup chopped fresh cilantro
2 serrano peppers, finely chopped
1 red onion, thinly sliced
1 teaspoon salt
1/2 teaspoon black pepper
Combine all ingredients and then cover and refrigerate for 3-4 hours before serving. Serve with sliced avocado and tortilla chips.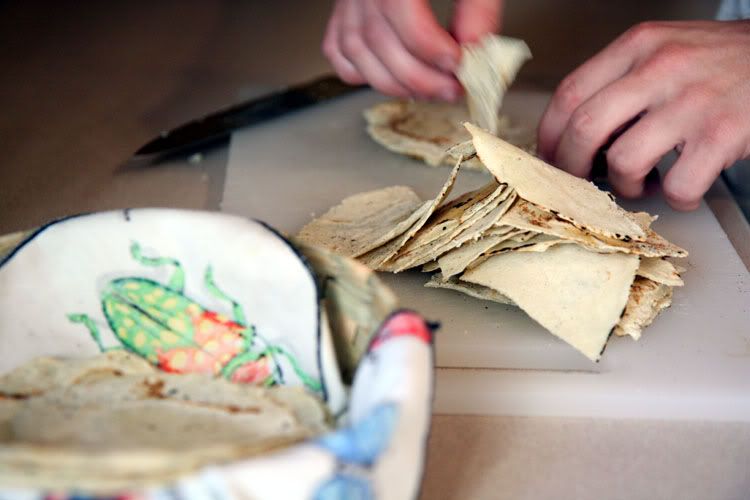 Chiles Rellenos
3-4 large poblano peppers
1 large can of refried beans
garlic powder
cumin
chili powder
1 cup of fontina cheese, grated
1/2 cup of Mexican crumbling cheese
bread crumbs
1 egg
First cut a slit down the side of each pepper, but do not remove the seeds. Next, roast the peppers in a dry frying pan until mostly browned, turning often. You don't want to cook them so much that they lose their shape. Once all sides are browned, remove them from the pan and place them into a plastic bag and seal tightly.
Meanwhile, mix the cheese and beans, along with garlic powder, cumin, and chili powder to taste, in a large bowl. After 15 minutes, if the peppers are cool, peel off the skins of the peppers. After the skins are removed, pull out the seeds, leaving the stem intact. Stuff each pepper with the bean/cheese mixture. Brush each pepper with the egg and then cover with bread crumbs. Bake in a casserole dish at 375 degrees for about 30 minutes. Serve with warm tomato sauce or fresh salsa.