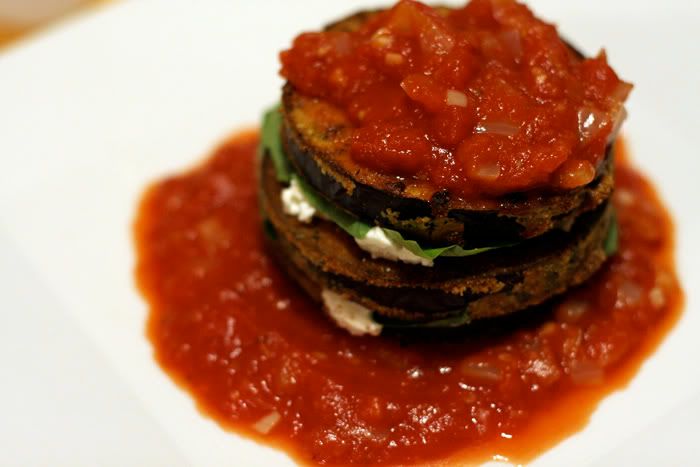 Who doesn't love eggplant parmesan? It's one of my favorites, but I've rarely had it when it isn't super greasy and heavy. I wanted to make something similar, but without all that grease and without it taking all night.
Look, I realize that you can fry anything in oil and it will be totally delicious. I understand that, BUT you don't have to do that to get cripsy, tasty eggplant. The only oil used is just a little olive oil on the baking sheet and little more drizzled over the sliced eggplant. Enough to give it some crunch, but not enough for it to soak into the eggplant slices. Perfection.
For the eggplant
1 large eggplant, sliced into 1/2" rounds
1-2 cups bread crumbs
pinch of oregano
salt
pepper
2 eggs
Preheat the oven to 375 degrees. Season the bread crumbs with the oregano, salt, and pepper. Scramble the eggs together in a shallow and wide bowl. Dredge the eggplant rounds into the egg mixture and then into the bread crumbs. Drizzle a little olive oil on a baking sheet and spread rounds on it. Drizzle the tops with a little more olive oil. Bake for about 8-10 minutes and then turn over and bake until brown and crispy on both sides--about 8-10 more minutes.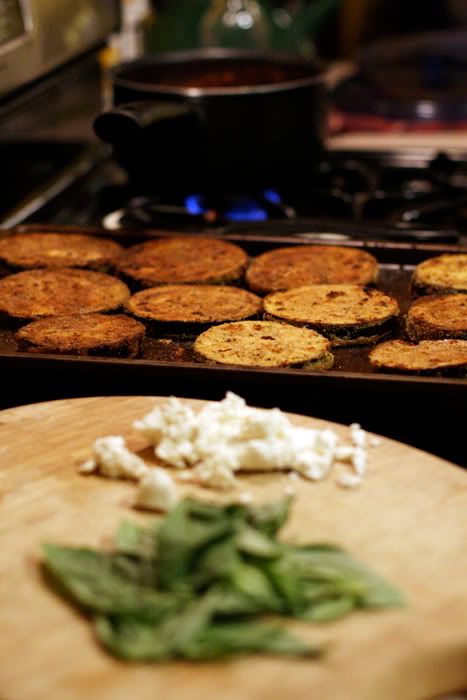 Simple Marinara
1 large can crushed tomatoes
6-8 cloves of garlic, chopped
1/2 and onion, diced
1 teaspoon sugar
black pepper
olive oil
Saute garlic and onions in olive oil until onions start to sweat. Add the canned tomatoes, sugar and black pepper and simmer for 15 minutes.

To serve

Ladle some marinara sauce onto a plate. Top with one eggplant slice. Crumble some goat cheese on top of that and then some fresh basil leaves. Repeat again and then top with a third eggplant slice and finally more marinara.