Yup, grits AND greens.  How southern can you get?

This was so simple and so delicious.  All three ingredients can easily stand on their own, but they also compliment each other incredibly well.  I knew this would be good, but I was pleasantly surprised at just HOW GOOD!  
I'm happy to say that these were wild-caught Georgia shrimp.  The collards were local too, and Mill's Farm 'Red Mule' grits are from right here in Athens.  They're our favorite. 
For the greens:
1 bunch collard greens, cut
1 large yellow onion
1 carton organic 'no chicken' broth
water to cover, if needed
black pepper

2 tablespoons red wine vinegar
1 tablespoons sugar
(a little texas pete, if you're into that kind of thing)
Put all ingredients in slow cooker and cook on high for 8 hours.
For the grits:
You should know how to make grits!  Start with less water than it says and then add more, if needed, as it cooks.  Add some shredded white cheddar.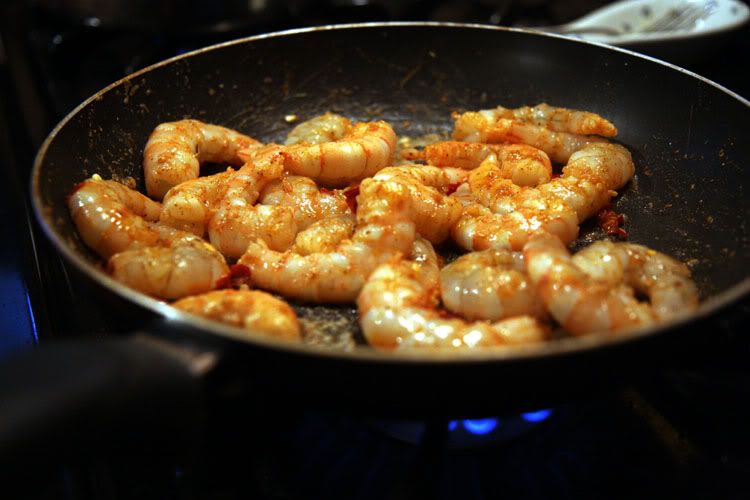 For the shrimp:

1/2 pound large shrimp
2 small shallots, sliced
2 cloves fresh garlic, chopped
1 lemon
Old Bay (or any other Creole seasoning)
Peel'em!  Get a frying pan good and hot and then add some olive oil and a dab of butter.  Toss in the shrimp, along with the shallots, garlic, and lots of Old Bay.  Cook for just a minute or two and then hit'em with the lemon juice.  
To serve, plate the greens first (be sure to drain them well), and then add the grits on top, and finally the shrimp.  Eat up!