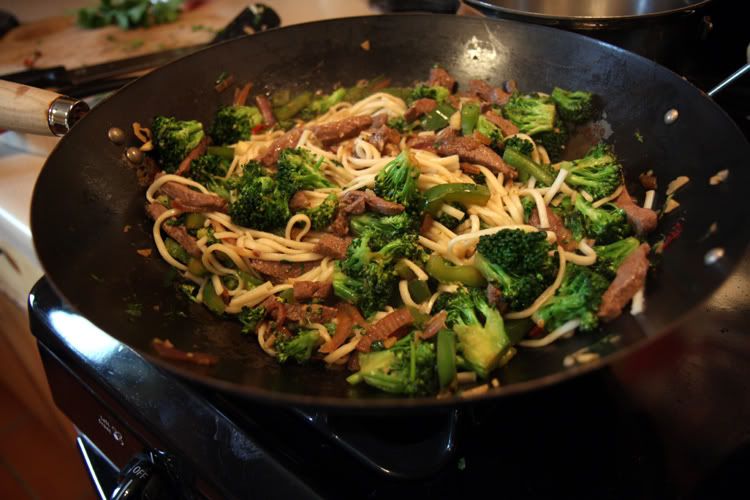 Our
local co-op
has started stocking udon noodles in the bulk section, which makes me very happy.  They are so delicious in soups or just tossed with a little sesame oil, spices, soy sauce, and whatever veggies you happen to have in the fridge.  We typically use tofu or seitan in something like this, but not this time!  Right now, we're still reveling in a freezer full of venison.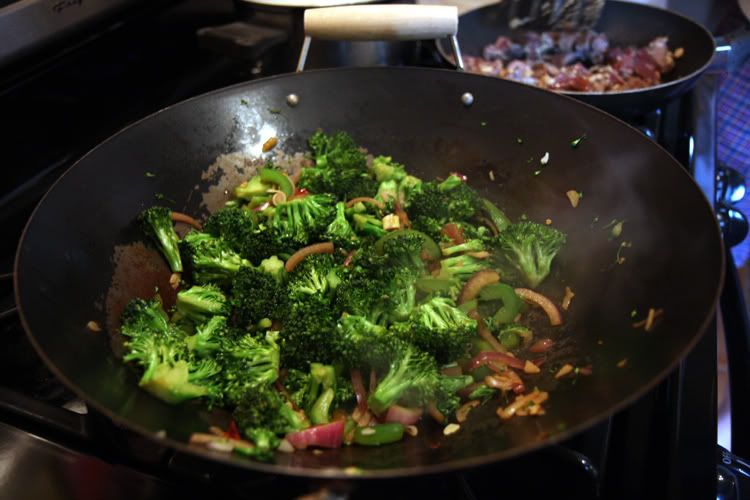 This particular dinner was inspired by Chinese 'beef with broccoli', as seen on many a Chinese take-out menu.  A little of this (bell pepper, onion) and a little of that (dried red pepper, cilantro) and what you end up with is something so much better--and definitely better for you--than you could get at said Chinese take-out place.
Recipe
3/4 lb. udon noodles
1 small venison loin
1 large head of broccoli
1 bell pepper
1 onion
2 dried red peppers
1 handful of chopped cilantro
1 thumb of ginger
4-5 cloves of garlic
soy sauce
sesame oil (1/4 teaspoon)
olive oil
Marinate the venison in soy sauce and the chopped garlic and ginger for a few hours, if possible.  Cook the noodles.  Meanwhile, saute the broccoli, bell pepper, onion, and crushed red pepper together in a wok with the olive oil, some soy sauce, and the sesame oil.  Make sure the broccoli keeps its crisp texture--don't overcook.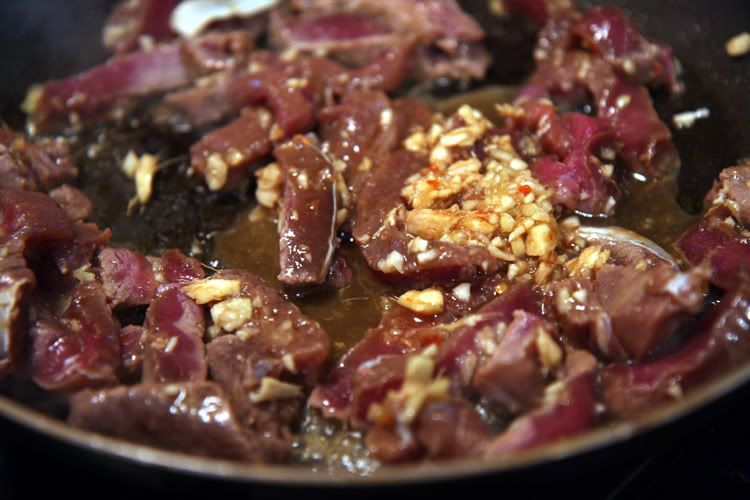 Get a frying pan very hot and then cook the venison for just a few minutes, browning on all sides, but leave it a little pink in the middle.  Pour the venison and it's juices over the cooked and drained noodles and then mix in the chopped cilantro and vegetables.  Garnish with more cilantro.