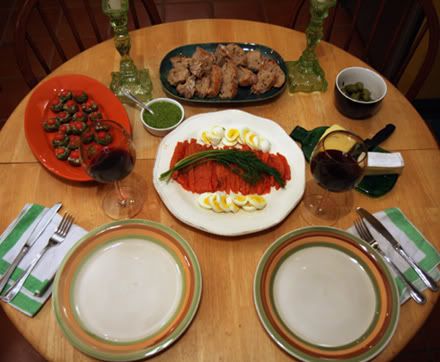 Sorry we've been so slack lately with posting.  It's not for a lack of delicious meals though, I can assure you.  We've been a little busy around here with all sorts of things, one which happens to be planning a wedding!  We've also had the pleasure of dining with friends quite frequently, which is always fun.  Thanks Michelle & David and Lauren & Shil!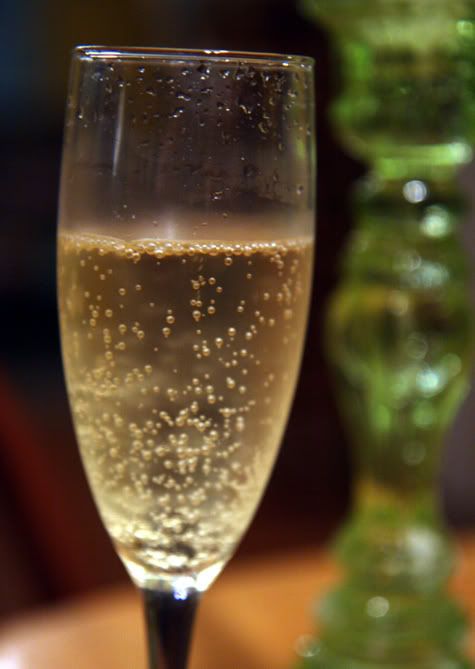 Tore and I have a tradition to stay in on Valentine's night.  Right from the beginning we loved to cook together, so what better way to celebrate Cupid's commercial holiday!  We typically like to do hors d'oeuvres or tapas, small plates, whatever you like to call it.  This dinner was no exception.  We planned the meal around making one of our favorite dishes...
gravlax
.  Basically, it's Scandinavian cured salmon with lots of dill.  It's ridiculously easy to make, but it takes several days to cure.  
Gravlax with boiled egg and mustard-dill sauce
Picholine olives marinated with olive oil, pink grapefruit and fresh marjoram
Aged Vermont cheddar
Camembert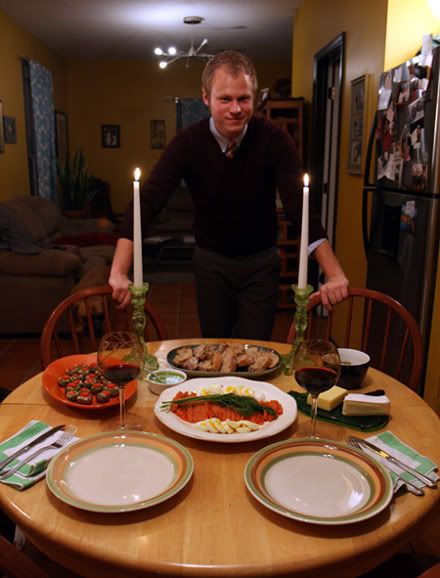 So, we obviously didn't make that cheese or get it locally, nor did we catch the salmon from a local stream.  BUT, we made the gravlax ourselves with wild-caught salmon instead of just buying it in the tiny little package at the grocery store.  If you like smoked salmon, you'll love gravlax, so try this out.  It tastes a billion times better and you definitely get more bang for your buck.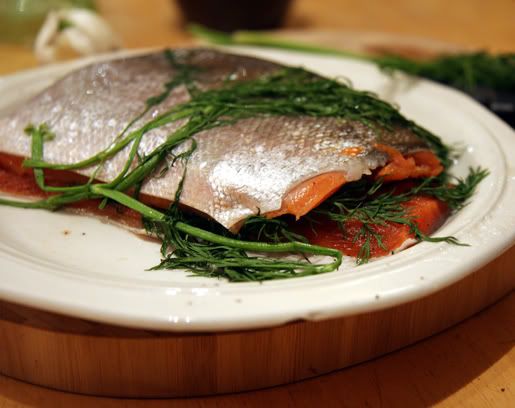 Cut a large salmon filet in half
Rub (very generously!) both sides with a mixture of equal parts salt & sugar
Add black pepper to taste
Put the two pieces on top of one another so that the flesh sides are touching with a large bunch of dill between them
Cover tightly with foil
Place a brick, a heavy casserole dish, etc. on top of the foil and refrigerate for 3 days
You will want to pull it out and drain the liquid after the second day.  
To serve, just slice very thin pieces off the skin & discard.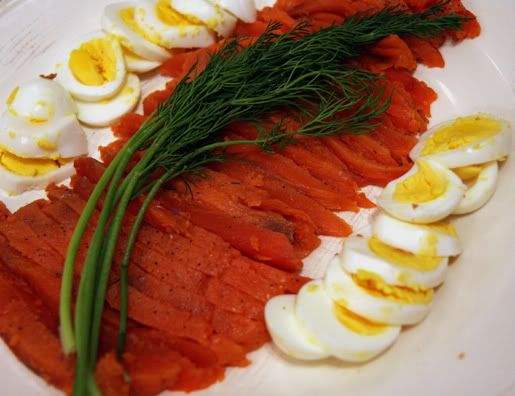 4 tablespoons plain yellow mustard
1 bunch of dill
juice of one large lemon
2-3 tablespoons honey
3 -4 tablespoons olive oil
salt & pepper
This sauce could also be used for a salad dressing--just add some white wine vinegar.