The idea tonight was to make dinner for Tore while he was in class talking about Vidalia onions. I knew I wanted to make some pesto with the parsley still growing in our garden, so I picked up a few items at the Daily Co-op after work and put this together. All ingredients are organic and the pesto is almost completely local--the pecans were collected from our back porch just hours before preparation.

Here's the recipe (I must say this was exceptionally delicious):
1 lb. whole wheat spaghetti
1/2 lb. cremini mushrooms (Pennsylvania)
1/2 a pint of grape tomatoes (Florida)
1 medium zucchini (Florida)
2 apple sage flavored grain sausages (vegan faux-sages made by Field Roast Grain Meat Co.)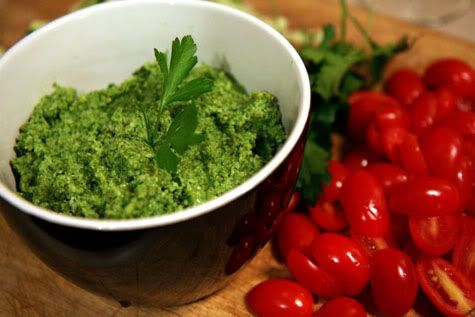 For the pesto:

7 large garlic cloves (locally grown)
1 large bunch flat-leaf parsley (VERY locally grown)
about 20 pecans (also VERY locally grown)
4 oz. of shredded parmesan cheese (Wisconsin)
To start, I had to
crack the pecans using our lovely Swedish nutcracker sent to Tore from
H
örby, Sweden by his grandmother for Christmas last year. It has really come in handy with our abundance of pecans.
I had to use a flashlight to go out and get the parsley, and my biggest fear was stepping in dog poop while on this mission. Luckily, I came back unsoiled.
In a food processor, I put in the parsley, the peeled garlic cloves, the parmesan, and the shelled pecans. Pulse that for a few seconds and then slowly add olive oil until it's the right consistency--sometimes I add a little water if it seems too thick.
Meanwhile, I boiled a pot of water for the noodles, chopped the veggies (sliced the mushrooms, cut the tomatoes in half, and made matchsticks of the zucchini), and cut up the faux-sage. I cooked the mushrooms in some olive oil by themselves for a few minutes before adding the faux-sage--add salt and pepper at this point.
Right before the noodles were ready, I added the zucchini matchsticks to my mushrooms and faux-sage for about a minute or two and then at the last minute added the grape tomatoes--you just want to warm those up, but not really cook them.
All that's left is to drain the noodles and then return them to the pot, add in the pesto and faux-sage & veggies and you're ready to eat.