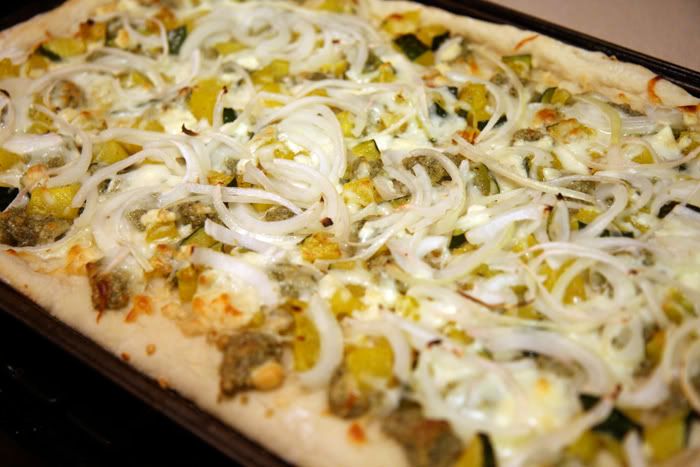 Long time, no post. Sorry about that. I've been busy trying to start a
business
!!
If you follow this blog, you already know that we love pizza. Well, get ready to start seeing a lot of pizza here. Making your own pizza dough is so simple that we now have pizza about once a week, at least. The best thing about this pizza is that it uses local, seasonal ingredients. Pizza is ridiculously versatile, so be creative!
Simple Pizza Dough
For the sage pesto:
about 20 large sage leaves
4 cloves of garlic
half a cup of shredded parmesan cheese
1/4 cup walnuts, pine nuts, pecans, etc.
1/4 cup olive oil
Process in a food processor or blender until smooth.
To make the pizza:
Start by dicing some winter squash--we used african squash that we grew in our garden, but butternut, acorn, etc. will work perfectly as well. Roast at 400 degrees until fork-tender. Meanwhile, thinly slice a yellow onion (vidalia is what we used).
Preheat over to 500 degrees and go ahead and heat up your pizza pan or pizza stone. We used to use a pizza stone, but now we prefer just a regular old cookie sheet.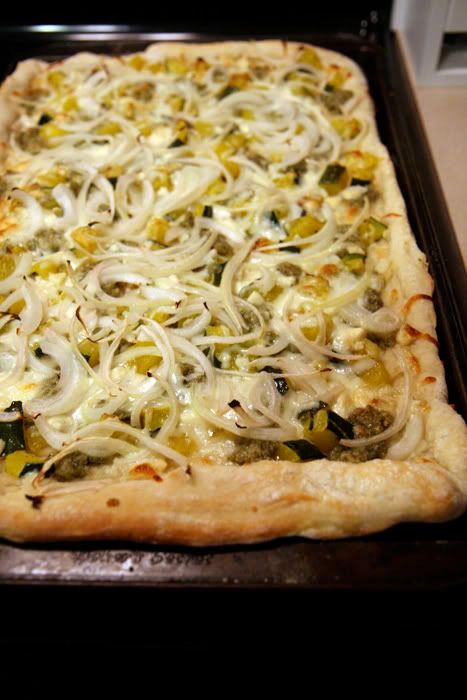 To assemble the pizza:Roll out your dough on a floured service and then transfer to your pan/pizza stone. You will probably need to put a little dusting of corn meal on your pan or stone so the dough doesn't stick. Now spread the pesto out over the entire dough (you may need to add more oil if it's not easily spreading). Next, add the roasted squash, then the feta, some black pepper, and then some shredded mozzarella. Finally, add the sliced onion.
Cook for about 12-15 minutes or until top begins to brown and bottom is crispy.
Valpolicella would be my wine choice, but Pinot Gris would also be great, if white is your thing.