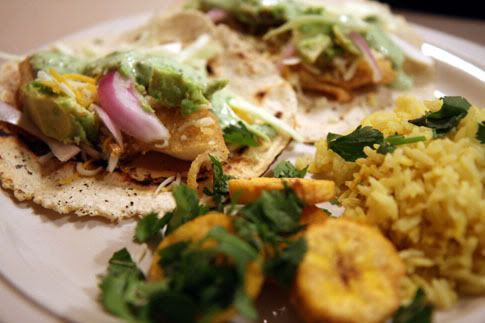 We did something here at Local Okra that we don't often do--we deep fried. And it was glorious.
It's a well-known fact that the best way to eat catfish is southern fried, so that's just what we did. We are fortunate to have Lake Sinclair (middle GA for those of you not in the know) catfish, crappie, and/or bass in our freezer pretty often. My Mom and Dad spend so much time at their lake house in Putnam county that they even get their mail there now, so you can imagine how much fishing they get to do. My sweetheart of a dad always cleans any fish Tore and I are lucky enough to catch before we go home, along with whatever they have in the basket. So, you get the idea--these fish are pretty damn local.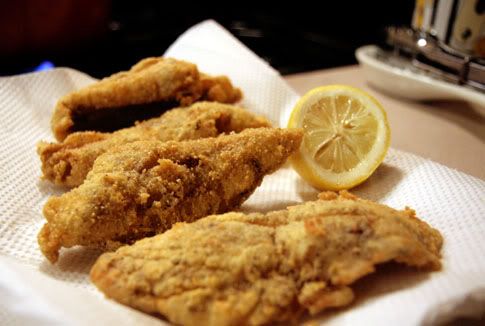 My favorite fish tacos are the ones you can get just about anywhere in southern California. This recipe is kind of my take on the first fish taco I ever had. What ties it all together is the Baja-style version of tartar sauce (I even made a special version for Michelle, minus cilantro), which goes perfectly with fried catfish. You also can't forget the cabbage, red onion, or the avocado. You can use pre-made corn tortillas for these, but why would you when you can make your own so easily? Tore started making them after spending a few weeks in Tepoztlan, Morelos, MX and since then, we eat them exclusively. They are that much better.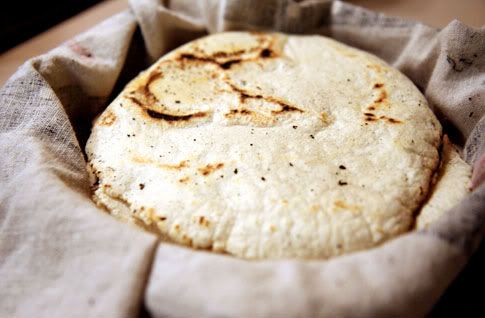 We served these with rice and fried plantains.....and lots of mexican beer (thanks David & Michelle!).
catfish filets (1 large or two small per taco)
salt
pepper
garlic--2 cloves, finely chopped
coriander seeds, crushed

olive oil
2 cups flour
1 cup yellow corn meal
canola oil
1 lemon

We marinated the catfish filets for several hours with a little olive oil, crushed coriander seed, fresh garlic, salt, and pepper. To begin, heat the canola oil in a large frying pot. In a deep mixing bowl, combine the flour and corn meal. Dredge the filets in this mixture and set aside until you're ready to fry. Fry until golden brown, about 6-8 minutes, depending on the size of the filet. Make sure to wait until your oil is good and hot. As you pull the filets out, hit them with salt and a squeeze of lemon juice. Keep finished fish in a warm oven.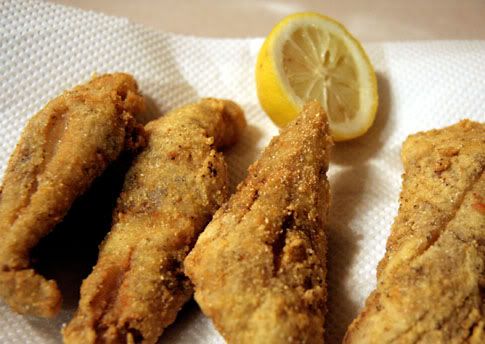 2 garlic cloves
1 cup sour cream
1 cup mayo (we used organic safflower mayo)
2 large jalapeno peppers
juice of one lime
pinch of cumin
pinch of chili powder
salt
1/2 bunch of fresh cilantro
Combine all ingredients in a food processor or blender until thoroughly combined and then refrigerate until ready to use.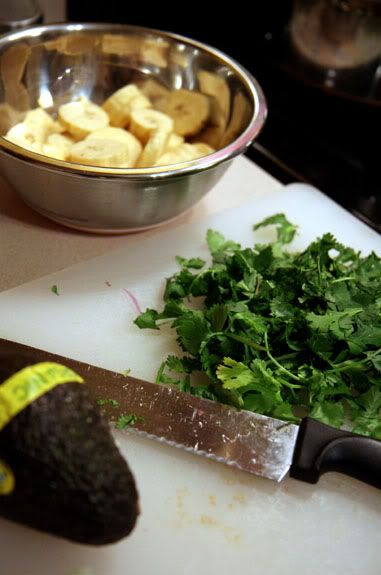 2 cups corn masa (we used Maseca brand)
1 1/2 cups water
pinch salt
Knead mixture until you have the consistency of dough. Divide into 16 pieces and then use a tortilla press to press each piece. Carefully transfer to a flat pan (on high temp) and cook 45 seconds to 1 minute on each side. As tortillas are done, put them in a dish and cover with a cloth to keep warm.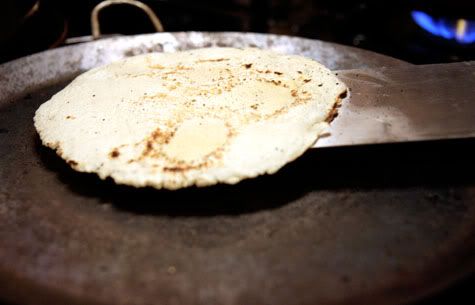 two plantains

cilantro
salt
canola oil
Slice plantains about half an inch thick. We deep fried them in the same oil we used for the fish, but you can pan fry them with a lot less oil as well. Fry for about 10 minutes and salt immediately after taking them out. Cover with chopped cilantro.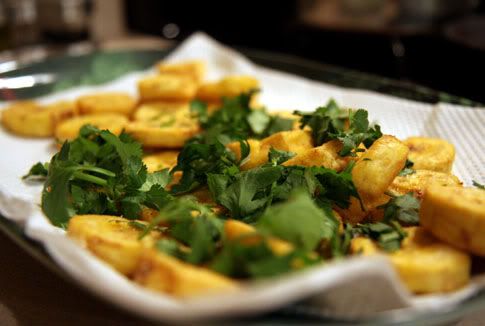 The white basmati rice was cooked in a rice cooker with veggie 'no-chicken' broth and some turmeric, paprika, and cumin. Nothin' fancy there.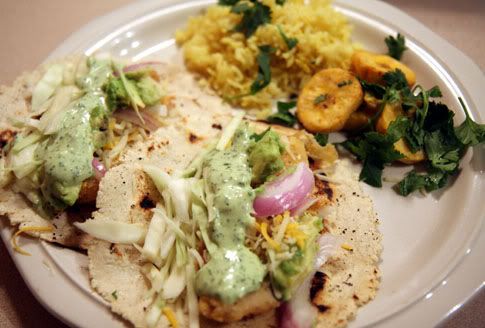 We enjoyed this meal and a few hilarious games of Uno with our good friends Michelle and David. Michelle brought a ridiculously delicious pumpkin pie as well. AND, Daisy finally got a kiss!