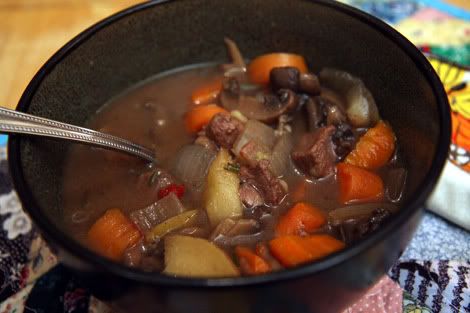 Venison! With the first mention of it to just about anyone, you will no doubt hear the words 'gamey' or 'lean' used over and over. When marinated properly, venison is a delicious and healthy local and organic meat option. It doesn't really get much better for Local Okra. We have used it to make all kinds of wonderful concoctions from the traditional southern country-fried cube steak to garlic, ginger, and sesame marinated baked tenderloin. We even used it in a traditional Swedish dish called
k
oldolmar
--cabbage leaves stuffed with rice and ground meat.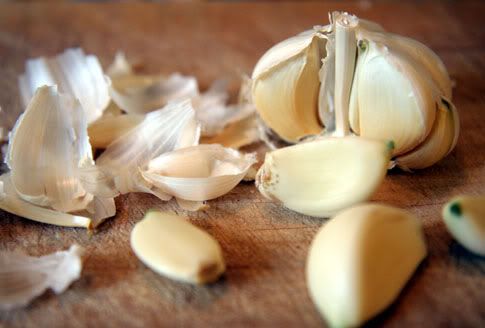 This stew is a throwback to the slow-cooked beef stew my Mom makes. It's pretty simple. You put your meat roast in the slow cooker, add some liquids and spices, let it cook for a few hours and then add your veggies. This is an easy week night meal that can feed the whole family. Well, unless your family eats like Tore!
The red wine is crucial in this recipe because the flavor helps to cut the gaminess and the acid helps to tenderize the venison. We used Malbec, but you can use any full-bodied dry red wine.
Recipe (all ingredients are organic):
1 venison roast
4-5 yukon gold potatoes
4 carrots
20-30 mixed mushrooms
1 large yellow onion
8-10 cloves of garlic
veggie 'no-chicken' broth, 2 cups or more
1 cup dry red wine
soy sauce, 3-4 tablespoons
fresh rosemary (we have two bushes in our yard)
1 bay leaf (this one was local and free at the Co-Op!)
Crushed red pepper--we used cayennes from this Summer
black pepper
4-5 tablespoons flour
Start by cleaning the roast and cutting it into bite size pieces. Put it in a crock pot/slow cooker and add the wine and enough of the stock to cover it completely. Add the soy sauce, some black pepper, and about half of the garlic. Cook the meat on high for about 2 hours.
Meanwhile, chop all the veggies and refrigerate until you're ready to add them. After two hours, add the veggies, herbs & spices, and the remaining broth.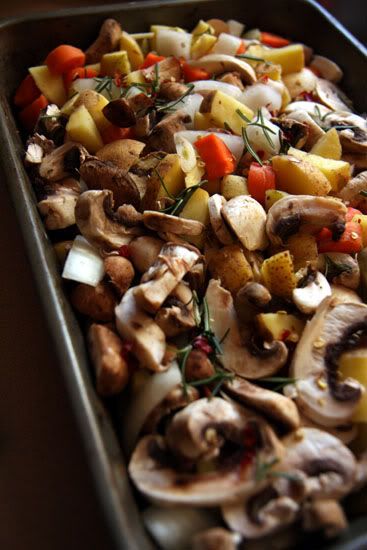 If you don't have enough broth to cover the veggies, add a little water. Keep in mind the veggies will cook down and add more liquid to the pot. Let cook on high until veggies are fork-tender. Remove some of the broth and whisk it into a separate bowl with the flour to make a paste. Whisk until smooth and then stir into the stew. Turn your crock pot off at this point and let the stew thicken. Serve with crusty bread and more of the red wine!