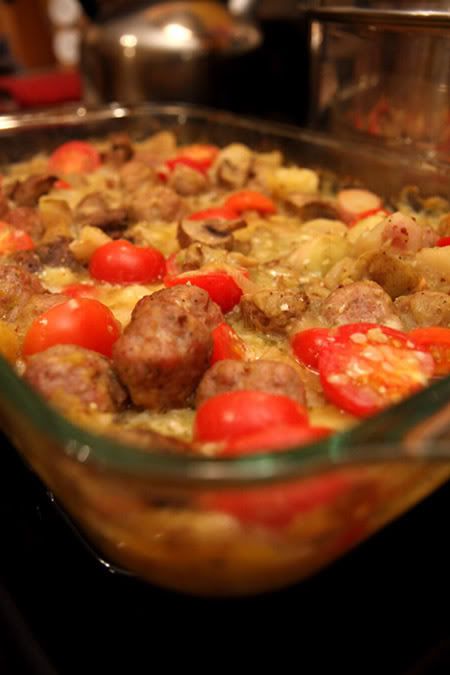 I like the name of this one.  Basically, we found some local baby turnips at the co-op and bought them even though we had no plans for them and Tore remembered hating them as a child.  They sat in the fridge for a few days before we remembered we had them; and I had the job of planning a supper around them.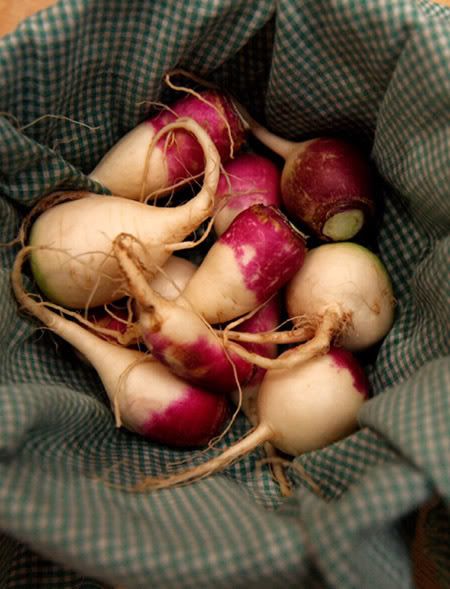 We had most of the ingredients we used on hand.  I took some inspiration from a few other recipes, but this one is a Local Okra free-stylin' recipe that I can safely say had not been done before.  Believe it or not, it was a huge success.  Try it, and see for yourselves!  All ingredients are organic and the sausage is from Full Moon Farm here in Athens.
Recipe
(this one is pretty loose, guys--that's the point!)
a dozen or so baby turnips
3 or 4 yukon gold potatoes
about half a pint of cherry tomatoes
2 small shallots or 1 large
6 garlic cloves
half a pound of ground pork sausage 
half a cup of bread crumbs
1 1/2 cups 'no-chicken' broth
about 3 tablespoons fancy whole grain mustard (we like Inglehoffer brand)
cheese of your choice (we had some Stilton left over that we used, so blue cheese would be great)
So, this was an experiment.  I would encourage anyone who enjoys cooking as much as we do to this as often as possible.  Sure, you will have miserable failures here and there, but when you really get it right, it can be so rewarding.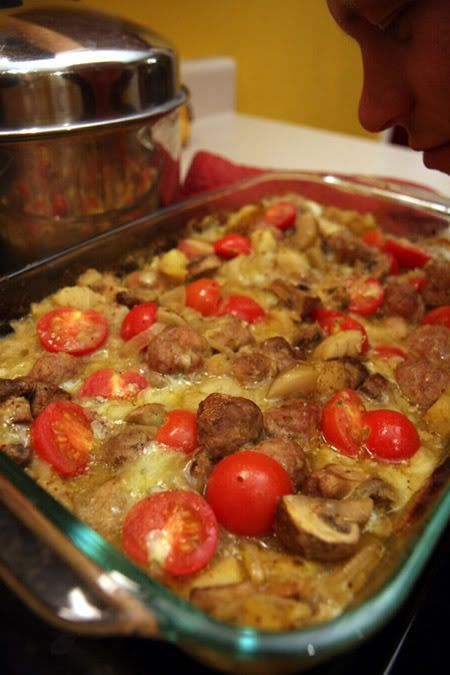 Preheat the oven to 375 degrees.  Start by dicing and boiling your potatoes and turnips in water.  You won't have to boil the turnips for as long as the potatoes, so just add those in after the potatoes have been going for a few minutes.  You just want to cook until fork-tender.  Meanwhile, chop the garlic and slice the shallots very thin.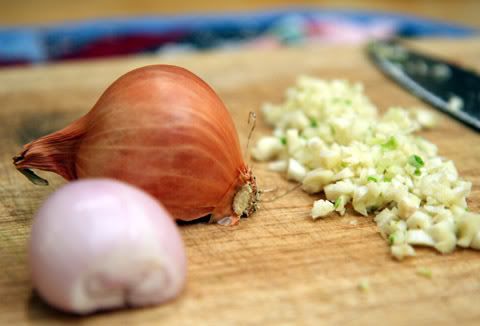 Add these, along with the broth, to a casserole dish.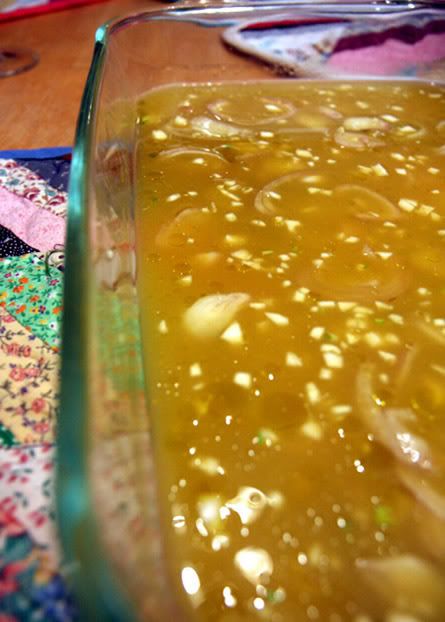 Take the sausage and add the bread crumbs and knead together.  Form into 1 1/2 inch balls.  Drain the root veggies and carefully add them to the casserole dish.  Now add the mustard and stir to combine as much as possible.  Place the meatballs evenly and then bake until the sausage balls are almost cooked through.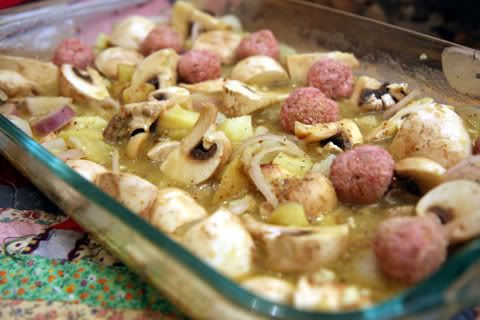 The last step is to add the tomatoes and cheese.  Add in the tomatoes and stir around a bit to distribute.  Then top with cheese--as much or as little as you want.  Bake until cheese is melted.  Bon appetit!